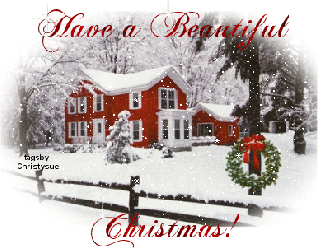 glitter-graphics.com
Every Year I go through the same thought processes.
Why Can't I live in the northern Hemisphere?
I love the whole winter theme with Christmas, it just goes together for me.
But we have a summer Christmas!
At the moment we live in a relatively cool climate during summer, but for most of my life I have had hot, humid Christmas's.
Although I love Christmas and all the traditions of our family surrounding Christmas and even though we do so many wonderful things I still long for the perfect Winter, snow filled Christmas.
I am not ungrateful for our lives but have you ever seen a Summer Christmas as depicted as the typical, classical Christmas.
My dream wish that has nothing to do with my Faith or Family is to have a Northern Hemisphere Christmas with all the trappings. All the preparations. To spend Advent and the Christmas Season in a Winter Wonderland fantasy.
So when I see an image like the one above....well I just start wishing.
Blessings,